That zebra car
Posted on: 28 January 2007
By:

Amanda Fritz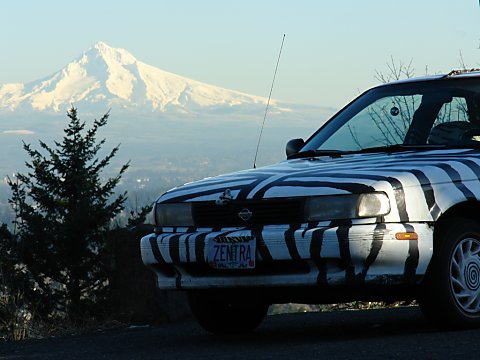 One of the things people found interesting, or weird, in my campaign last year was the film of our zebra car shown at Candidates Gone Wild. Note, "our" zebra car - CGW chose to edit out my comments that it's Steve's primary vehicle, and why I like it. I'm still suffering PTSD from that event, but I want to post this fun picture and it calls for some kind of explanation. So I hope you might be interested to read our son Maxwell's take on the car and the artist who created it. This is another essay that helped Maxwell get into Princeton University, in answering the application question, "Who is someone who has influenced you?":
My father drives a car painted in zebra stripes. The inside is crammed full of stuffed animals, seat covers, and air fresheners devoted to his favorite animal. He even has the zebra edition of Zoobooks magazine prominently displayed in the back window. On weekends, he frequents a counterculture group that plays croquet using bowling balls hit with sledgehammers, has "nuclear family picnics" on the lawns of power plants, and launches pumpkins out of cannons. He also wakes up early every weekday, straightens his tie, and happily drives in that twelve year old Nissan Sentra to his work as a psychiatrist at the Oregon State Hospital.
He has a simplicity in the logic behind his decisions that makes many of the worries in my life seem silly. He painted his car because he was bored with it. He set up a stand along a marathon route offering runners free doughnuts and beer because he thought it would be entertaining. He constantly teaches me that even in the real world, being content is not contingent on adhering to the expectations of others.
I often wonder what my life will be like decades from now, but if it is anything like my father's, I will know I did well. I expect many of the details will be different. I do not plan to become a doctor, turn vegetables into projectiles, or remodel my automobile into a work of art. However, if I follow his lead, I will be able to open my eyes on a Monday morning and smile about both the weekend in the past and the week ahead in the future.

As you can tell, I am proud to be associated with both my husband and my children. And I find the zebra car, and the smiles I get when I drive it, simply fun. It has over 400,000 miles on the odometer, and owes its continued presence on the roads to Ken Williams and his team at Pacific Car Care on SW Barbur Boulevard.
In case you're wondering, my primary car is "Inferno Red" with flames on the sides. Much more normal, huh?