Golden Country
Posted on: 8 August 2011
By:

Amanda Fritz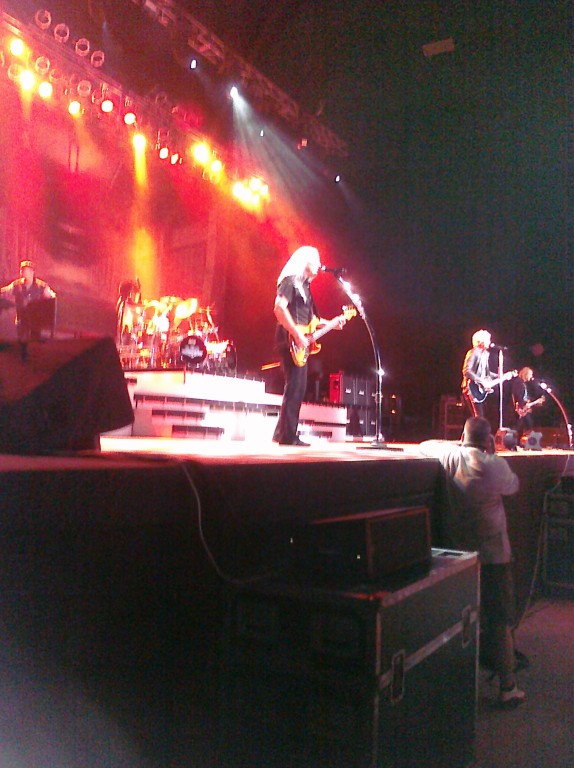 Poor quality camera-phone shot, but you get the idea.
My husband and I both took Friday off work to spend some quality time together over the weekend. One of the treats he gave me was attending the REO Speedwagon concert at the Clark County Fair on Saturday. Wonderful show, about two hours of amazing rock. We had great seats close to the amplifiers, providing enough sound and vibration to feel like the cholesterol plaques were being shaken right off my heart and arteries. I am very glad that while on the Portland Planning Commission, I made the swing vote to deny the proposal to put a concert amphitheater at the Portland International Raceway.
Kevin Cronin (lead singer since the 1970s, not the same-name staff person at the Portland Development Commission) made a great speech before singing the signature song, "Golden Country". He said it was written on campus in Illinois to protest the Vietnam war and social problems at home in the United States, but that it is as appropriate for today's challenges. The lyrics:
Golden country your face is so red
With all of your money your poor can be fed
You strut around and you flirt with disaster
Never really carin' just what comes after
Well your blacks are dyin' but your back is still turned
And your freaks are cryin' but your back is still turned
You better stop your hidin or your country will burn
The time has come for you my friend
To all this ugliness we must put an end
Before we leave we must make a stand
These words are for all of us. No matter what we do in life, before you leave, don't turn your back -- make a stand, any kind of stand wherever we can make it, to put an end to the ugliness however we can.