Support the Street Roots Auction
Posted on: 31 October 2009
By:

Amanda Fritz
The Street Roots Auction is now on line! From their site:
Wanting to improve your quality of life and help out Street Roots? Look no further.
Trying to figure out what exactly to get your family and friends this holiday season? You've come to the right place. Street Roots has partnered with more than 60 individuals and businesses to put together some uniquely Pacific Northwest tidbits just for you in this auction, both large and small.
Plus, with your support you'll be helping empower social justice media and economic development for people experiencing homelessness and poverty throughout the Portland region.
The auction includes a framed 16 x 20" photograph of Portland roses and clouds, taken from Oaks Bottom by the incomparable Steve Fritz. Bid on it here. It's cropped from this photo: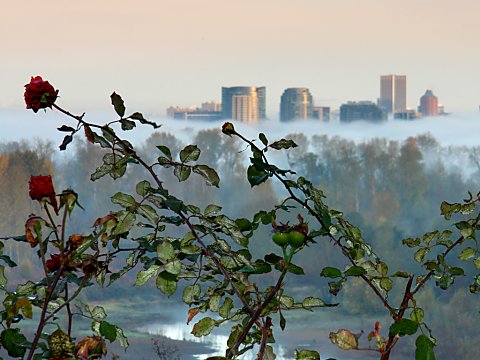 Street Roots is a wonderful organization doing excellent work both supporting people experiencing homelessness with meaningful jobs, and providing all Portlanders with well-researched, well-written articles covering subjects you won't find anywhere else. Buy a copy of Street Roots every two weeks, send a subscription and/or additional donation, and bid on their auctions today.